NICE AIRPORT (NCE) INFORMATION
Origin
Airline
Flight no.
Scheduled
Est./Actual
Status
No flight arrivals were found at Nice Airport.
Destination
Airline
Flight no.
Scheduled
Est./Actual
Status
No flight departures were found at Nice Airport.
Car Hire at Nice Airport
UNBEATABLE VALUE CAR RENTAL
Free Amendments | Free Cancellations | No Card Fees



Nice Airport - All Information on Nice Airport (NCE) Nice Airport
06281 Nice Cédex 3, France
phone +33 4 898 898 28
phone+33 4 9321 3111 (Lost + Found)
emailnice.aeroport@cote-azur.aeroport.fr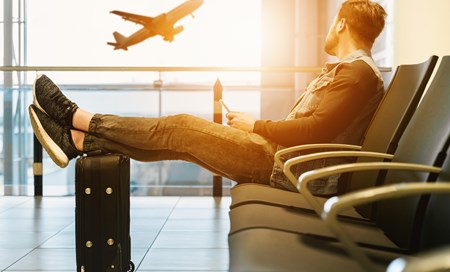 Nice Côte d'Azur Airport in France is located just 3.7 miles / 5.9 kilometers southwest of the city of Nice. The location is popular with holidaymakers travelling to the famous Côte d'Azur, one of France's premier holiday destinations.
Nice is in fact France's third busiest airport after Charles de Gaulle International and Orly, both of which are located in Paris. There are just two terminals at this busy aviation hub, which handled some 12.4 million passengers in 2016 and 13.3 million in 2017, with passenger numbers slowly rising every year.
There are courtesy shuttle buses, which run between the two terminal buildings and the parking lots to transport passengers where they need to go. In total, there are 8 parking lots catering for short and long-term parking.
Business travelers will find Terminal 1 is equipped with a business center that caters for their needs with regard to copying, internet and faxing services. There are also conference and meeting facilities with 8 meeting rooms and one conference room providing space for up to 250 people.
In addition to the two passenger terminals Nice Airport also has a freight terminal. In total the airport's passenger capacity is 13 million with 26 landings per hour maximum. Terminal 1 has 25 gates for boarding and can handle up to 4.5 million passengers per annum, dealing with domestic and international flights to both Schengen and non-Schengen countries. Terminal one has a floor space of 560,000 sq feet.
Terminal 2 is slightly larger with 622,000 sq feet floor space and offers 29 gates for boarding. This terminal has a total capacity of 8.5 million passengers per annum.
Arrivals, Departures and Airlines at Nice Airport
The airlines that use the airport of Nice are among some of the best known in the world. Aer Lingus flies regularly to Dublin and for parts of the year to Cork, while Aeroflot offers a year-round route to Moscow-Sheremetyevo. Air Berlin, one of the largest low-cost carriers at the airport, flies to Düsseldorf all year round and to Stuttgart during the holiday season.
Air France, the native airline, offers flights to Athens from April 2012 onwards, but is already providing flight routes to Nantes, Lille, Lyon, Paris-Orly, Strasbourg, Tunis, Toulouse and will also fly to Venice and Tel Aviv from spring 2012 onwards.
Passengers who want to fly to Italy can do so via Alitalia flights to Rome-Fiumicino and to Vienna via Austrian Airlines. Nice is also connected to the UK via Bmibaby with flights to Birmingham and Nottingham as well as via British Airways to London-City. Delta Airlines provide an inter-continental connection to New York for parts of the year.
The other large budget airline stationed at Nice Airport is Easyjet, which offers flights to destinations in Germany, Spain, France, UK, Italy and Ireland, some routes are already in place, others will commence in spring 2012. EasyJet Switzerland already offers flights to Basel/Mulhouse in Switzerland.
Train and bus tickets can be purchased at Terminal 1, where the office of buses is located. Passengers wishing to continue their journey by train can choose from 73 destinations from Nice's three major train stations: Nice Riquier, Nice Ville and Nice Saint-Augustin. It takes 10 to walk from Gate A1 via the pedestrianized walkway towards Arenas under the RN98 Bridge, also known as the Passage de la Caravelle.
Pedestrians should then cross the Lindbergh Avenue and turn left at Lycée hôtelier, before turning right again at the traffic lights. From here pedestrians should cross over to the left and walk under the SNCF railway bridge, taking the route de Grenoble. A final right turn into the Avenue Edouard Grinda will take them to the railway station.
The free shuttle bus from Nice Airport will do the journey in less than 5 minutes. At Terminal 1 passengers should take the shuttle gate A0; at Terminal 2 they will find the shuttle between gates A2 and A3. Passengers should get off the shuttle bus at Arenas and follow the instructions above to reach the train station.
City buses leave the airport from Terminal 1. There are numerous bus connections to the city. A taxi rank is also located just outside the terminal buildings.
The Car Rental Center at Nice Airport is located on the Arrivals level and is open until 10.00 pm every day. At Terminal 1 the car rental desks can be found by Gates A1 and A2, the right of the Information Desk. At Terminal 2 the rental desks are located between Gates A2 and A3.
Passengers should take the free shuttle bus from Terminal 1 (at stop 1) to Terminal 2 (getting off at stop 8) and cross over to the car parking lot P5, where the access to the Car Rental Center can be found. It is from here that cars are collected and to which they are returned at the end of the rental contract.
For further information about Nice Airport, please visit the official website at www.nice.aeroport.fr
The Airport IATA 3 Letter code for Nice is NCE. The name is otherwise known as is Côte d'Azur International Airport. Its GPS location is – 7.21500, 43.66528 which you can enter into your Smartphone/I-phone to enable you to find your way.
Parking at Nice Airport
See options for parking services at Nice Airport.
Hotels near Nice Airport
There are a number of hotels to suit all budgets and requirements at or near Nice Airport.
Additional Services and Amenities at Nice Airport
At Nice Airport you will find the usual array of bars and restaurants, airport lounges and shops.
Things to do in Nice City, France
There are a number of activities to suit all ages and interests in the region - see a selection of tourist activities in the city of Nice, France.
Useful Information about Nice Airport